Ingredients in Altar™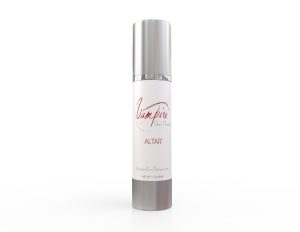 NOTE: all ingredients, besides for their beneficial effects described below, have been chosen for their excellent safety record.
*Water (Aqua)  Solvent
*Caprylic/Capric triglyceride Emollient derived from coconut oil and glycerin. Its fatty acids are very compatible with fatty acids composing stratum corneum and thus this ingredient aids with prevention of the transepithelial water loss.
*Dimethicone Skin protectant, moisturizer and tactile perception of the formulation.
 *DC5200 For water-in-oil formulation.
*Persea Gratissima (Avocado) Oil Helps creating and stabilizing water-in-oil structure of this formulation, which is essential for the physicochemical properties of this formulation. Contains anti-oxidant, anti-inflammatory and ultraviolet-protective components.
*Ethylhexyl Palmitate Solvent, emollient and skin conditioner. Important for the tactile feel of the formulation.
*Butylene Glycol Skin conditioning agent.
Find Provider of Altar™
*Glycerin Humectant.
*Butyrospermum Parkii (Shea Butter) Vitamin A – rich moisturizer
*DC5200 An alkylmethyl siloxane copolyol designed to prepare stable water-in-oil emulsions
*Allantoin Skin soothing and regenerative agent.
*Betaine humectant and anti-irritant.
*Hydrolyzed Silk Helps with wound healing and strengthens skin structure.
Patented Angelica Polymorpha Sinensis Root Extract (SBD4)
*Bisabolol Essential oil enhancing percutaneous absorption.
*Tetrahexyldecyl Ascorbate Stable form of Vitamin C.
*Dow Corning 9040 A mixture of high molecular weight silicone elastomers (dimethicone crosspolymer) in cyclopentasiloxane).
*Magnesium Sulfate Anti-inflammatory ionic solvent.
*Sodium Chloride Thickener of water soluble ingredients.
*Chlorphenesin CPN is a wide spectrum hydrosoluble antimicrobial substance, active against bacteria, fungi and yeasts. It is used as a polyvalent preservative
*Phenoxyethanol Preserves freshness of natural ingredients